DR. CHRISTOPH BOES
Msc Chemistry, Phd Biochemistry
I am a fifty-six year old German citizen, who moved to England to study Buddhist philosophy nineteen years ago. My home is in Thornby, a small village between Leicester and Northampton. Due to increasing requests tuition became my main occupation in 2013.
I began tutoring during my chemistry study, from which I attained a Masters of Science in Chemistry (first class degree) and a PhD in Biochemistry (first class degree). One of my pupils was a medical student, who did not like chemistry. He tried to memorise all chemical formulae for his exam. After the basic rules were explained he was able to derive equations without much effort. Later he said "I did not know chemistry was so easy".
With each new client I begin with a thorough assessment: What kind of person he or she is, what basic knowledge is present and what are the main problem areas? Then a tutoring plan is suggested to reach the goal in a reasonable time frame. My emphasis lies on building up a solid foundation of knowledge and the skills to apply it.
Lessons
Lessons are individually tailored to the needs of the student and designed to be entertaining yet challenging. Their interview style keeps the tutee focused and engaged. Examples of daily life are incorporated and comparisons drawn with situations from sport and hobbies. Sometimes we even do small chemistry experiments (don't worry parents – only harmless ones – the kitchen will not blow up!).
During the assigment we will aim to cover all topics of the specification. Furthermore, practising past papers and applying exam techniques ensures my students are well prepared for exams. Revision techniques are improved by using revision plans and flashcards. I am very familiar with the four main exam boards (AQA, Edexcel, OCR A and B) and have successfully published my highly acclaimed revision notes, on which my lessons are based. Homework of around 30 – 60 min consisting mainly of memorizing flashcards is given between sessions to practise and deepen new knowledge.
Most of all, I do my best to make the lessons interesting and enjoyable, which motivates students to learn. While I understand that at the beginning there might be resentment towards the subject, there has to be a basic willingness to learn. Hence, if I feel the student does not want tuition, I reserve the right to decline the assignment.
Nevertheless I have a lot of patience and enthusiasm, which usually allows me to get along very well with my students. Hopefully at the end of tuition I can quote you saying "I did not know chemistry was so easy".
Scientific Expertise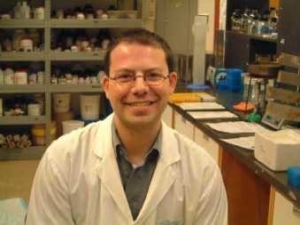 This picture shows me in a laboratory at the BC Cancer Research Centre in Vancouver, Canada.
I have worked for 18 years in high profile labs in scientific research all over the world including Tübingen (Germany), Hamburg (Germany), Cambridge (UK) and Leicester (UK). During this time I have taught university students and supervised Masters and PhD students.
My scientific expertise includes Biochemistry, Microbiology, Molecular biology, Protein chemistry, Chemical Analytic and Genetic Engineering.